9 April 2019
Blind tasting organized by Pol Roger in Austria - April 3rd 2019
The Austrian blind tasting took place on April 3rd 2019 with the two following universities:
- Diplomatische Akademie Wien (Christina Huber, Laura Vujcic and Victor Van de Poll)
- WU Wien (Katrin Kirchmayr, Julian Tatschl and Nicolas Zamichiei)
The WU team won and Nicolas Zamichiei (WU Wien) was the individual winner. Each set of wines was composed of three French wines, one Austrian, one European and one from the New World.
The tasting was held at Palais Coburg's from 3pm to 6pm and was followed by a cocktail party and dinner from 6.30pm to 11.30pm.
The members of the jury were Benjamin Mayr (Portfolio Manager at Del Fabro's and President of the Jury), Jérémie Huillet (L. Derksen & Co) and Axel Gillery (Pol Roger's Brand Ambassador).
On the picture, from left to right: Benjamin Mayr, Axel Gillery, Jérémie Huillet, Julian Tatschl, Katrin Kirchmayr and Nicolas Zamichiei.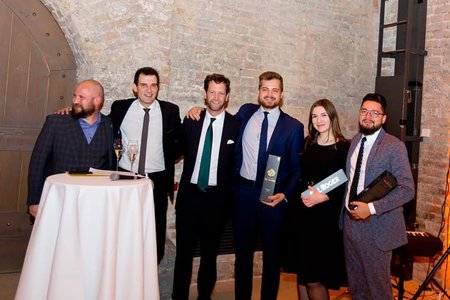 Close