18 April 2017
Blind tasting organized by in Austria - March 29th 2017
Since a few years, Pol Roger has decided to expand the concept of blind tastings to Austrian universities. The tasting took place on March 29th 2017 with the four following universities:
- Diplomatische Akademie Wien (Fabian Ortner, Daniel Röthlin et Lukas Hainzl)
- WU Wien (Stefan Cibulka, Maximilian Kritsch et Raphael Hyee)
- TU Wien (Kreshnik Rexhepi, Clemens Holzhuber et Robert Wiebringhaus)
- Juridicum Wien (Hans-Jörg Mayer, Matthias Gruber et Agnes Winkelmaier).

The Diplomatische Akademie team won and Fabian Ortner (Diplomatische Akademie) was the individual winner. Each set of wines was composed of three French wines, one Austrian, one European and one from the New World. The tasting was held at Wein & Co's from 3pm to 6pm and was followed by a cocktail party and dinner from 6.30pm to 11.30. The members of the jury were Denis König (owner of the restaurant Le Salzgries and President of the Jury), Peter Lamprecht (sommelier for L. Derksen & Co, Pol Roger's importer), Axel Gillery (Pol Roger's Brand Ambassador) and Jérémie Huillet (L. Derksen & Co).
On the picture, from left to right: Denis König, Axel Gillery, Fabian Ortner, Lukas Hainzl, Daniel Röthlin and Jérémie Huillet.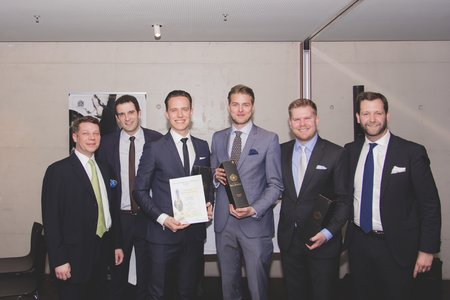 Close