20 January 2016
Blind tasting match bewteen the most prestigious French schools and universities - January 15th 2016
The Maison Pol Roger has been sponsoring and organizing for nearly 25 years blind tastings among the most famous schools and universities, in France and England.

The first 2016 session was held on January 15th in the premises of Pol Roger with the four following schools from Paris;

- Centrale
- Agrosup
- Mines ParisTech
- ENS Paris.

Each team, composed of 3 participants, represents a school and the individual winner is rewarded with a bottle of the prestigious Pol Roger cuvée, Sir Winston Churchill 2004.
The winning team is selected for the national finals and each of its member is offered a bottle of Brut Vintage 2006.

Following a visit of the cellars and the House, all the participants were invited for a lunch in the vast dining-room, completely renovated.
The winning team was ENS Paris, composed of Julia WANG, Antoine JEGO and Tony LY. Julia WANG won the individual contest.

Congratulations to all the participants!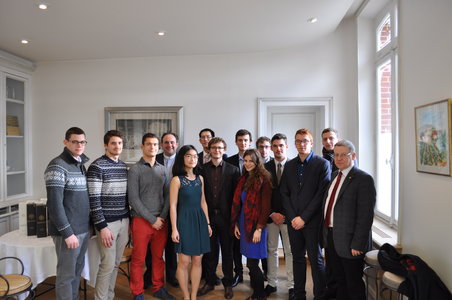 Close