22 April 2015
Blind tasting match - French final - 20 April 2015
The final of the blind tasting match organized by POL ROGER for the most famous French schools and universities was held in Epernay on 20 April 2015, with the following schools:
- EDHEC Business School
- EM Lyon
- Ecole Normale Supérieure
- Sciences Po Bordeaux
- Paris Dauphine University

The winning school was Ecole Normale Superieure, followed by Sciences Po Bordeaux, EM Lyon, Paris Dauphine University and EDHEC Business School.

The Ecole Normale Superieure team will meet the winner of the English contest on the occasion of the International Blind Match.

4 candidates were participating to an individual tasting.
The winner was Adrien Dubrasquet (ENS) ahead of Samuel Moulié (EM Lyon), Esteban Fernandez (Sciences Po Bordeaux) and Venise SEYCHELLES (Sciences Po Bordeaux).

The winners each received a bottle of Brut Vintage 2004 and the other finalists a bottle of Brut Reserve.

Congratulations!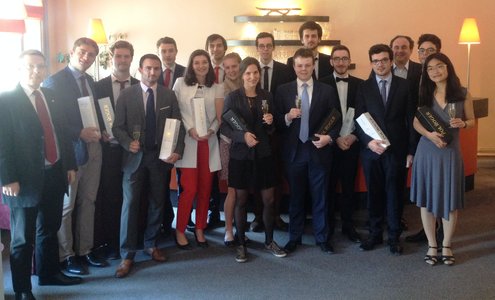 Close