12 March 2015
Third blind tasting organized by in Austria
For the third time, Pol Roger decided to expand the concept of blind tastings to Austrian universities.
The tasting took place on March 10, 2015 with the three following universities:

- Diplomatische Akademie Wien (Virginia Ottolina, Quentin Pache et Florian Kohlfürst)
- WU Wien (Michael Kobyszewski, David Fraydl et Bernhard Völkl)
- TU Wien (Valerie Baumgartner, Florian Przemek et Alexander Buhmann)
- Juridicum Wien (Markus Kunze, Mathias Gruber et Hans-Jörg Mayer)

The winning team was the Diplomatische Akademie with Quentin Pache as the individual winner (110 points).

Each set of wines was composed of three French wines, one Austrian, one European and one from the New World.

The tasting was held at the French Embassy from 4pm to 6.30pm and was followed by a cocktail party and dinner from 6.30pm to 9.30.

The members of the jury were Wolfgang Kneidinger (Wine director du Palais Coburg and President of the Jury), Peter Lamprecht (sommelier for L. Derksen & Co), Hugues Romagnan (Pol Roger Export manager) and Jérémie Huillet (L. Derksen & Co, Pol Roger's importer).

On the picture, from left to right: Hugues Romagnan, Wolfgang Kneidinger (Palais Coburg), Virginia Ottolina (Diplomatische Akademie Wien), Florian Kohlfürst (Diplomatische Akademie Wien), Quentin Pache (Diplomatische Akademie Wien) and Jérémie Huillet.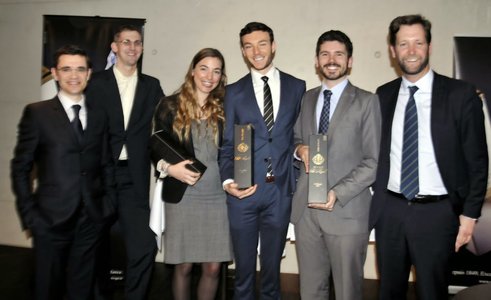 Close