2 July 2014
International blind tasting final
On 30th June, Pol Roger held the final of their International Blind Tasting Match between the members of the most prestigious British and French Business Schools and Universities.

Sciences-Po Bordeaux, with Venise Seychelles, Enzo Reulet and Esteban Fernandez, challenged Cambridge with Vaiva Imbrasaité, Antoni Wrobel and Rhys James, accompanied by other members of Cambridge enological club.

The competition was won by Cambridge. Antoni Wrobel was the winner of the individual contest and was rewarded with a magnum of the famous cuvée Sir Winston Churchill 2000.
Each member of the Cambridge team received a magmum of Brut Vintage 2004. All competitors from Sciences Po Bordeaux were offered a magnum of Brut Réserve.

Congratulations to all the participants!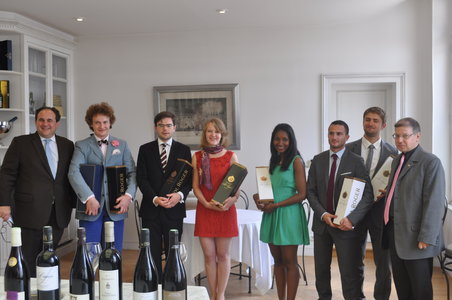 Close