8 July 2013
Patrice Noyelle retires from the Presidency of Pol Roger & Cie
Patrice Noyelle is to leave his position as President of the Board of Directors of Pol Roger at the age of 66. He has been appointed to the Supervisory Board presided over by Christian de Billy.
Originally from Paris, he has a longstanding passion for wine; after 25 years spent in the Burgundy wine region he joined Maison Pol Roger in 1997 and has played an influential role in the house's history.
Patrice Noyelle became President of the Board of Directors in 1998 and he has worked tirelessly to raise and maintain the profile of Pol Roger to its current level of excellence, which is recognised worldwide.

Patrice Noyelle leaves a legacy of significant achievements during his time at the helm of Pol Roger. Not least, was his awareness of the importance of sourcing the best grapes from growers, in addition to the 90 hectares owned by Pol Roger.
He also instigated the complete renovation of the winery; an undertaking which ensured that Dominique Petit, the cellar master (who took up his position in 1999), could vinify cuvees of irrefutable consistency and quality.

Laurent d'Harcourt (49 years old - IHEDREA, MBA Reims Management School) succeeds Patrice Noyelle and takes over the position of President of the Board of Directors.
He joined Pol Roger in 2006 as an Export Director, to replace Christian Pol-Roger, and was appointed to the Board of Directors in June 2008.

Laurent d'Harcourt and Hubert de Billy (member of the Board of Directors) are supported by an experienced management team: Dominique Petit (Cellar Master), Evelyne de Billy (Vineyard Manager), Isabelle Gautier ( Financial Director) and Hugues Romagnan (Export Director).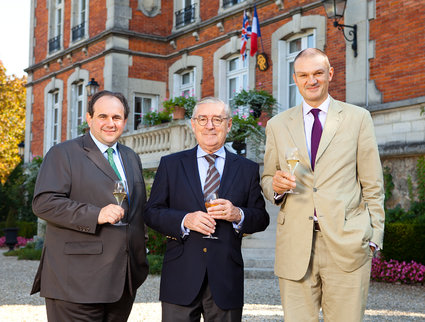 Close